Aluminum Camlock
JUNE HARDWARE

CHINA

25 DAYS

1,000,000 PIECES PER WEEK
In the installation of the pipeline the aluminum camlock will be simply and save time.
The material of aluminum camlock will not be corrosion, so it could be used for long.
The aluminum camlock is widely use on petro, textiles,mining, brewing, inks, dyes, paper mills, processing plants chemicals, fertilizers, chemicals.
Aluminum camlock also called cam and groove coupling, a kind of hose coupling used to rapidly connect and disconnect fitting on piping or hose, they come in a variety of materials to be used with different liguids and a variety of sizes to accommodate hose or piping diameter.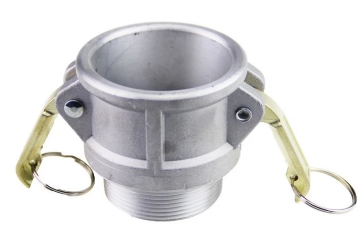 The aluminum camlock is widely used in aerospace, metallurgy, mining, coal, petroleum, shipbuilding, machine tools, chemical equipment and various agricultural machinery: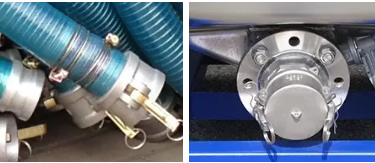 Material: Stainless steel 316 / 304; Brass; Aluminium; PP
Type: A, B, C, D, E, F,DC, DP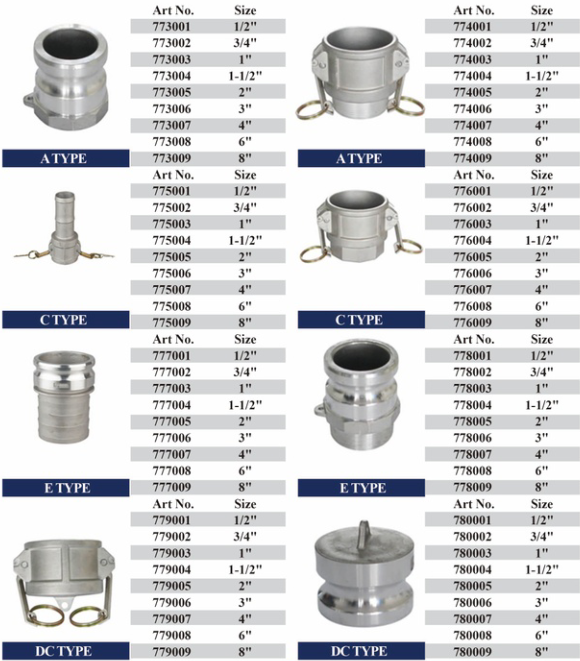 The same type A, E, F, DP type 4 male and B type, C type, D type, DC type 4 female heads can be combined to form a joint body to achieve the take-over or thread wait.
Testing pressure:

3/4"-2" 250PSI(17.6bar)
3"-4" 200PSI(14.8bar)
21/2" 225PSI(15.8bar)
6" 150PSI(10.5bar)
Thread: NPT/BSP/BSPT/DIN2828.
Aluminum camlock selection principle 1. According to the diameter of the inner tube bi-directional type 2. According to the transmission fluid pipe diameter selection of one-way 3. According to the instruction of different specification model, calculate the flow to selection. 4. Quick coupling have two connetion type: threaded connection and flange connections. Such as the use of equipment is always rotated in one direction, you can choose to screw connections or flange connections, the outer tube screw points spin around. Select the method: standing in the direction of quick connector Look at the direction of rotation of the device, select the screw rotation of the outer pipe should be the opposite direction of rotation of the device,semi-sub-type flange left and right rotation can be. Flange connection is divided into two types: threaded flange (outer pipe with internal thread flange) and semi-sub-ring flange, semi-sub-ring flange adapted to the right and left direction of rotation equipment. Flange the relevant parameters generally provided by the user, or indicate that the national standard production. 5. Quick connectors and pipes do not allow rigid connections, there must be a soft tube transitional connection. 6. Users can provide the following parameters, the help of my company to help selection: diameter of the inner tube; equipment diameter, length and width; speed, pressure, temperature; and equipment connection diameter; input and outlet pipe diameter; flange size; working medium and so on.