Type D Camlock
JUNE HARDWARE

CHINA

25 DAYS

1,000,000 PIECES PER WEEK
In the installation of the pipeline the type D camlock will be simply and save time.
The material of type D camlock will not be corrosion, so it could be used for long.
The type D camlock is widely use on petro, textiles,mining, brewing, inks, dyes, paper mills, processing plants chemicals, fertilizers, chemicals.
Type D camlock are commonly known as: locking arm quick couplings, toggle quick couplings, and lifting ring quick couplings. It is a pipe joint that can be quickly disassembled without using tools. It has the advantages of compact structure, small size, light weight, high pressure resistance and interchangeability.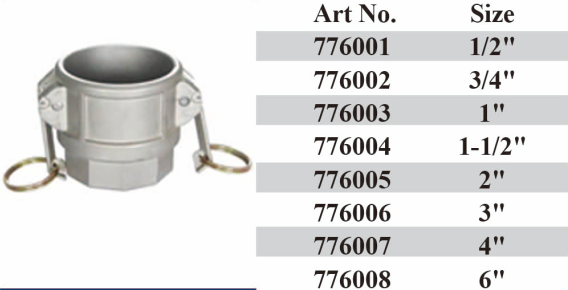 The type B camlock is widely used in aerospace, metallurgy, mining, coal, petroleum, shipbuilding, machine tools, chemical equipment and various agricultural machinery: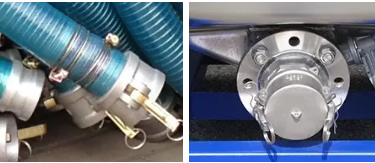 Material: Stainless steel 316 / 304; Brass; Aluminium; PP
Type: A, B, C, D, E, F,DC, DP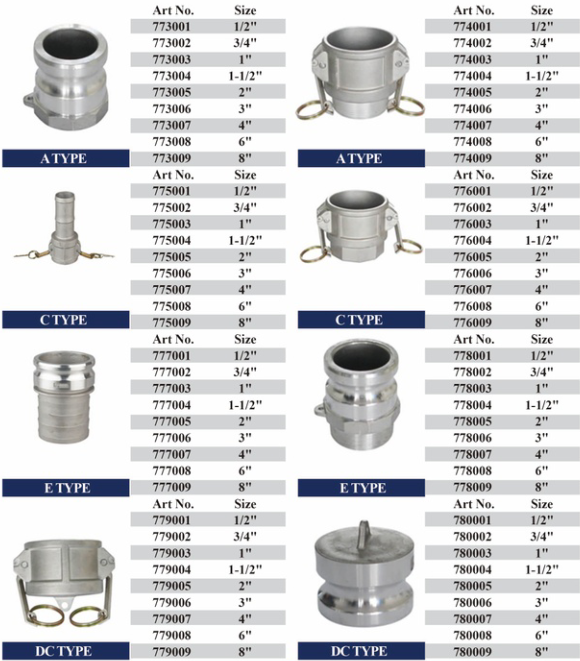 The same type A, E, F, DP type 4 male and B type, C type, D type, DC type 4 female heads can be combined to form a joint body to achieve the take-over or thread wait.
camlock+conector is used in a wide variety of applications for petroleum handling,chemical processing, dry bulk handling, agricultural, and water, etc.

camlock+conector are easy to connect and disconnect.

camlock+conector other materials are available on request.
Testing pressure:

3/4"-2" 250PSI(17.6bar)
3"-4" 200PSI(14.8bar)
21/2" 225PSI(15.8bar)
6" 150PSI(10.5bar)
Thread: NPT/BSP/BSPT/DIN2828.
Advantage:
1. When connect or disconnect pipeline with Camlock Coupling, It can operate simply, then save time and manpower.
2. Save fuel: there is Individual valve on the camlock Coupling, it can avoid the loss of oil andoil pressure.

3.Protect the environment
Application: Petroleum,Food, Chemical, Paper, Fertilizer, Fabric, Aviation,Nuclear,Fluid, Gas and oil transport,Pressure and heat transmission,Construction and ornament,Boiler heat exchanger