Type F Camlock
JUNE HARDWARE

CHINA

25 DAYS

1,000,000 PIECES PER WEEK
In the installation of the pipeline the type F camlock will be simply and save time.
The material of type F camlock will not be corrosion, so it could be used for long.
The type F camlock is widely use on petro, textiles,mining, brewing, inks, dyes, paper mills, processing plants chemicals, fertilizers, chemicals.
Type F camlock is a male connector , it has no pull on both sides. so it is generally used with the female connector, so that can quick disassembly and installation.one side is directly connection with female connector, other side is external thread connection.
Camlock / Quick coupling features Hydraulic quick connector, is a widely used hydraulic system of a pipe, it has without special tools can quickly hydraulic cylinder assembly and disassembly features. The quick coupling with sealing device also has the features of preventing liquid from leaking and entering the air.The quick coupling is suitable for applications in the fields of oil, water and air and is widely used in agricultural machinery, mining machinery, construction machinery, aviation machinery and Among other machinery
Advantage:
1. When connect or disconnect pipeline with Camlock Coupling, It can operate simply, then save time and manpower.

2. Save fuel: there is Individual valve on the camlock Coupling, it can avoid the loss of oil andoil pressure.

3.Protect the environment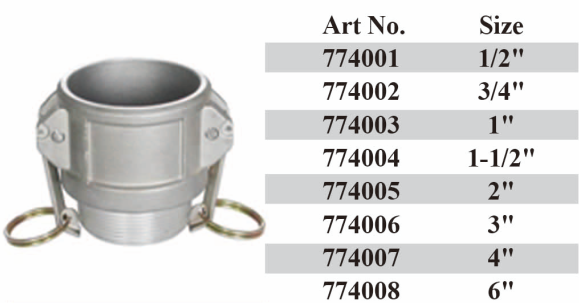 The type F camlock is widely used in petroleums,textiles,minings,brewings, inks, dyes, paper mills, processing plants chemicals, fertilizers, chemicals.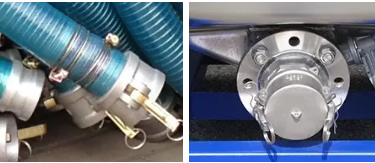 Material: Stainless steel 316 / 304; Brass; Aluminium; PP
Type: A, B, C, D, E, F,DC, DP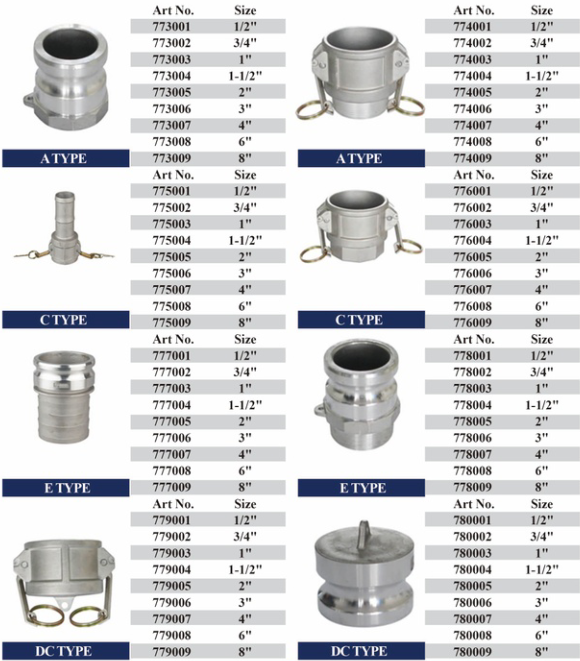 The same type A, E, F, DP type 4 male and B type, C type, D type, DC type 4 female heads can be combined to form a joint body to achieve the take-over or thread wait.
Testing pressure:

3/4"-2" 250PSI(17.6bar)
3"-4" 200PSI(14.8bar)
21/2" 225PSI(15.8bar)
6" 150PSI(10.5bar)
Thread: NPT/BSP/BSPT/DIN2828.
Type "A", has a male grooved adapter and a female pipe thread (BSP or NPT thread)of the same size.
Type "B", has a female camlock end and a male pipe thread of the same size.
Type "C", has a female camlock on one end and a male hose tail on the other.
Type "D", has a female camlock end and a female pipe thread of the same size.
Type "E", has a male camlock on one end and a male hose tail on the other.
Type "F", has a male grooved adaptor and a male pipe thread of the same size